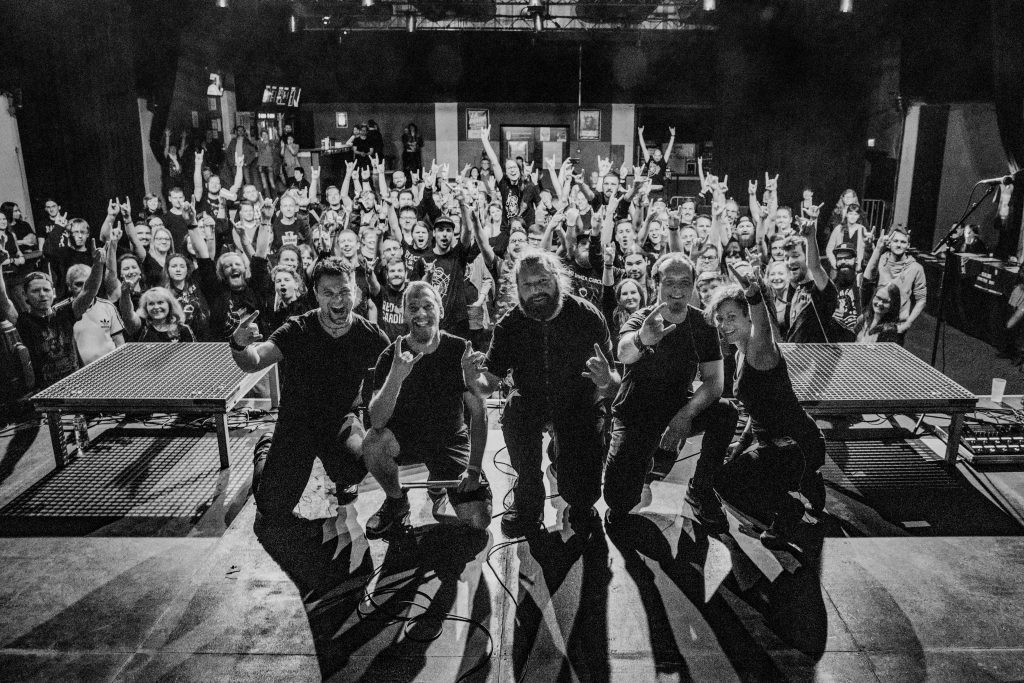 MELODIC METAL aus Potsdam
Bretternde, rifflastige Gitarren kombiniert mit symphonischen Pianosounds, melodiestarkem Bass, treibenden Drums und einer kraftvollen Stimme, die an Progressive Metal erinnert: das sind MY INNER CIRCLE. Die Melodic Metal – Band gründete sich Anfang 2016 und ist seit Herbst desselben Jahres live unterwegs. Sie bringt verschiedene Metal – Einflüsse in ihre Songs ein, die von Symphonic Metal über Metalcore, Power Metal und Alternative Metal reichen. Die entstehenden Songs sind in detaillierter Arbeit arrangiert, erzählen von Alltäglichem, von menschlichen Beziehungen und thematisieren immer wieder die schwere Aufgabe, sich selbst dabei treu zu bleiben.
Das Jahr 2018 stand ganz unter dem Stern der ersten Albumproduktion sowie der SEE US SOON – Promotion Tour, die MY INNER CIRCLE auf nationale und internationale Bühnen brachte. Am 06. April 2019 releasten sie ihr Debütalbum "Echo Of Hearts" mit einer aufwendig produzierten Release Show im legendären Lindenpark Potsdam, gemeinsam mit den beiden Supportbands LUZID und VISIONATICA. Das Debütalbum von MY INNER CIRCLE trug die Band anschließend auf die "ECHO OF HEARTS" Albumtour, die den Herbst 2019 ausfüllte und am 27.12.2019 mit einer weiteren aufwendigen Live- Produktion abgeschlossen wurde.
2020 und 2021 widmet sich die Band ganz dem zweiten Album, welches im ersten Quartal 2022 erscheinen soll.
MY INNER CIRCLE sind:
Norbert (Vocals) | Lea (Guitar, Vocals) | Adi (Bass, Programming) | Olli (Piano) | Benni (Drums, Technic, Programming)
KOMMENDE SHOWS
TO BE ANNOUNCED!

VERGANGENE SHOWS
2020
20-09-26 | FIGHT THE END #ohneunswirdsstill Waschhaus Arena, Potsdam (DE) w/ Echoes & Clouds, Straylight
20-08-14 | 26 Years Motorcycle Club, Schönfeld (DE)
2019
ECHO OF HEARTS TOUR 2019
19-12-27 | Tourabschluss, Lindenpark Potsdam w/ ATME, ZIS.
19-11-17 | DK Luksus, Wroclaw w/ Beatray, ATME
19-10-05 | Lindenpark, Potsdam w/ Morlas Memoria, AvatariA
19-10-04 | NonnenwaldRock, Penzberg w/ Vex, Blackened Halo
19-10-03 | Golden Nugget Club, Nürnberg w/ All Faces Down, Knockout Concept, Dead like Juliet, Lost in Reminissence
19-10-02 | Bandhaus, Leipzig w/ Fjordal, Wolfstavar
19-09-21 | Alive, Wroclaw w/ ATME
19-09-20 | Oberer Gasthof Grüna, Chemnitz w/ Mute Nation
19-06-29 | Club A18, Berlin w/ ATME
19-06-08 | Flat Black, Dresden w/ Beatray
19-05-18 | Moshing is possible vol. 5 @ JuKuZe Die Klinke, Berlin w/ Reflected Shadow, Ryv Law & Slaves & Bulldozers
19-05-17 | Benefizkonzert @ Scala Kulturpalast, Werder w/ December Night, Stadtruhe u.v.m.
19-04-06 | "Echo Of Hearts" Release Show @ Lindenpark Potsdam w/ Luzid, Visionatica
SEE US SOON TOUR 2018:
18-12-28 | Scala Kulturpalast, Werder
18-11-16 | Alhambra, Luckenwalde w/ Not That Simple
18-10-20 | IPP Festival Wroclaw, Polen w/ ATME u.a.
18-10-19 | Wu5, Dresden w/ Starless Aeon u.a.
18-09-22 | JuKuZe "Alte Brauerei", Angermünde w/ Beatray, Holidays In Hell
18-09-21 | Slaughterhouse, Berlin w/ Beatray, ATME
18-09-15 | Waschhaus, Potsdam w/ Distornance
18-08-18 | DamsStock Open Air, Damsdorf w/ December Night, FIVA u.a.
18-08-17 | Sommerfest Bikertreff, Schönfeld
18-06-08 | Blackland, Berlin w/ Luzid, Stonerunner
2017
17-10-21 | The Resurrected, Dessau-Kochstedt, w/ Defecto & Beatray
17-10-06 | Club Charlotte, Potsdam; w/ Awakening Sun & Sturmtief
17-09-30 | Lindenpark, Potsdam; w/ Bearded Bastards, Vijeriah uvm.
17-09-15 | Alhambra, Luckenwalde; w/ Sensifer
17-08-19 | JWD, Berlin; w/ Metal Law
17-05.05 | Slaughterhouse, Berlin; w/ Atme & Beatray
17-01-28 | Archiv, Potsdam; w/ Metabolic & His Masters Descent
2016
16-12-10 | Scala Kulturpalast, Werder; w/ Animadvert, Scheinton, Through Colours, December Night
16-10-07 | Clubmitte, Potsdam; w/ Portent & Sturmtief